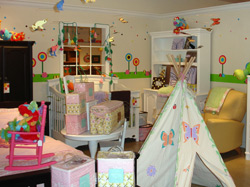 Merry Go Round...Happy name, happy shopping. Merry Go Round has been a one-stop shop for all things Baby (and child) in the Seattle area for over 50 years. Owner Bob Pressey says, "You can walk into our store and go home with everything you need to bring home your baby." Bath supplies, child-proofing, pumps, diaper bags & more...you name it, they've got it.
We love the fabulous furniture selections in all price ranges such as Oeuf, Natart and Million Dollar Baby (don't let the name fool you -- it's surprisingly affordable), just to name a few. Best Chairs are still our favorite stylish glider and MGR has the largest selection in town. Peruse beautiful clothing options from Paris Cheri, Fig Organics & plush Halo Innovations sleep sacks. Rely on MGR's staff to help you make an educated selection on all that "gear" out there such as carseats & strollers. (You can even park Little One in their fenced-in playspace while you take a Bugaboo stroller for a quick spin through the store.)
MGR's owners have been in the biz for many years and have watched baby trends come & go. What's hot now? Top new sellers include bebePod seats, glass and BPA-free bottles and sippy cups (Green to Grow, Think Baby, Adiri), and NaturePedic organic mattresses for cribs and toddler beds. Ergo carriers continue to be popular and the Baby Jogger City Mini is a top selling stroller. MGR is the exclusive local carrier of the uber-cool Orbit Travel System , Jeeto canvas prints, and Capretti furniture.
News Flash: Merry Go Round now has an online registry. New parents-to-be can shop from the comfort of home or walk through the store with scanner in hand. Far-flung family members can now check out your registry online but still shop local.
Merry Go Round Children's Store
1014 116th Ave NE, Bellevue 98004
425.454.1610
www.merrygoroundkids.com

---